Urgent Call: Media Justice for Palestine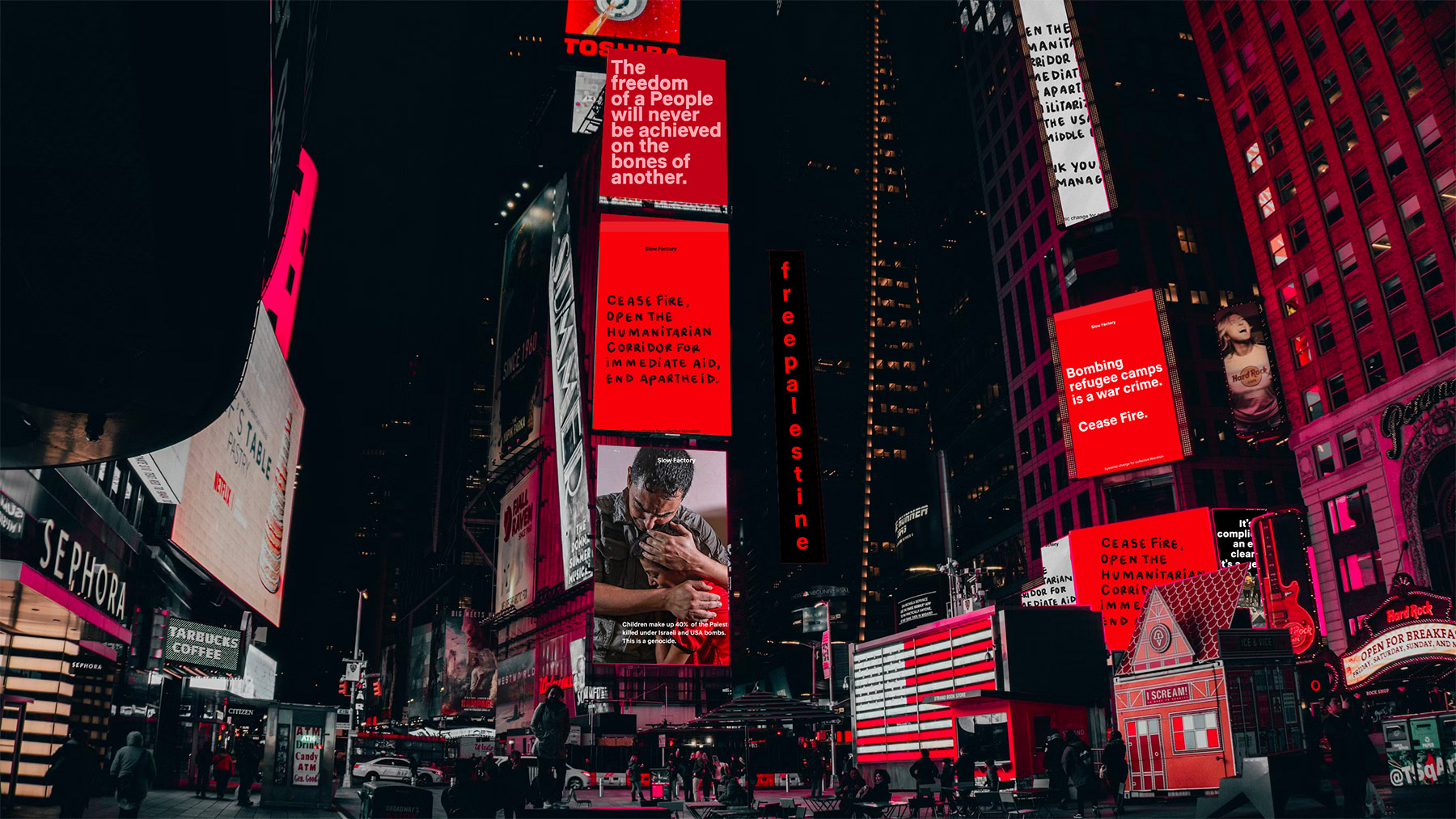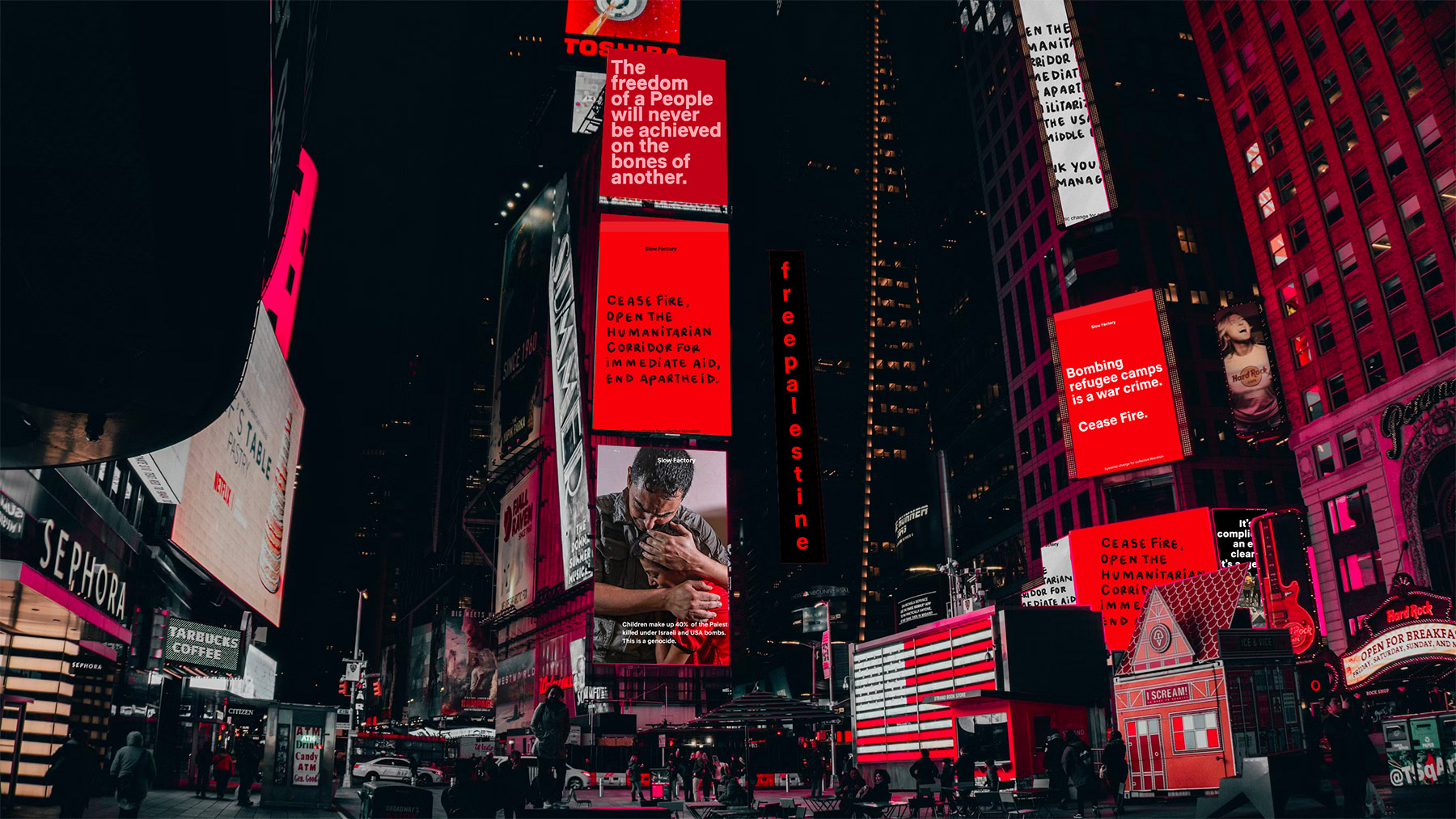 Our Goal
This campaign aims to raise visibility for crimes against humanity taking place NOW in Palestine. Our goal is to raise $250,000 USD to buy billboards in public spaces in major cities in the US, UK and Canada to bring visibility to the #FreePalestine movement globally.
Take Action
The Organizers
This fundraiser has been spearheaded by Slow Factory, and organized by a coalition of Diasporic Palestinians, Lebanese, Jordanians, Indigenous and Black people and international supporters of Jewish, Muslim and Christian heritage; we are a non-partisan, multi-faith group that is inclusive of multiple backgrounds, gender and LGBTQ identity and includes leaders in business, media, entertainment, fashion, beauty, and more. Due to sensitivity and concerns around surveillance and the physical safety of our supporters, please understand that we are exercising discretion regarding the identities of members in this coalition. We will provide transparency around use of funds. Your trust in us and this endeavor is deeply appreciated.
What is happening in Palestine / Israel?
Gaza is becoming a "graveyard for children", U.N. Secretary General Antonio Guterres said on November 6. Over 10,000 people have been killed by Israeli bombs since October 8, almost half of them children. The United Nations, along with every other credible international body have condemned Israel's illegal occupation of Palestine, the settlements that amount to annexation, and the systemic ethnic discrimination that have been characterized as apartheid by the UN Human Rights Commission, former UN Secretary General Ban Ki-Moon, Archbishop Desmond Tutu, South African Foreign Minister Naledi Pandor and former Israeli Attorney General Michael Ben-Yair among many other experts and institutions.
Palestinians want freedom. Israelis know that their freedom is incomplete without the freedom of Palestinians, and they want their government to stop bombing Gaza. They all want the return of all Israeli and Palestinian hostages and political prisoners. Americans overwhelmingly want an immediate ceasefire, and want their tax dollars to stop supporting the Israeli apartheid, illegal settlements and occupation of Palestine. Protests are happening globally, supporting the right of the people of Palestine and to stop the US-sponsored Israeli bombardment of Gaza and the ethnic cleansing of Palestinians from Gaza, the West Bank, the Golan, and Jerusalem.
The protests in support of Palestine, led by Arab people (including Jewish Arabs), Jewish people (including Arab, European and African Jews), Indigenous people from Turle Island to Australia, Black people and the entire Global South, carry extraordinary global significance, but in the last month over 10,000 innocent civilians have been killed by Israeli & American bombs.
Palestinian men, women, and children, students, artists, journalists, doctors, schoolteachers, UN employees, NGO workers, and LGBTQ people are being bombed in their homes, workplaces, hospitals, schools, cars and ambulances — and over 5000 people have been beaten and imprisoned in the past month, all in flagrant violation of their basic human rights.
Major global news outlets have a responsibility to cover these events in a way that maintains the humanity and basic human rights of Palestinians, to present the events of October 7 and since in the context of a 75-year occupation and apartheid, which followed a 30-year period of colonial invasion and ethnic cleansing carried out by the British and European Zionist militia.
"For more than 40 years, the UN Security Council and General Assembly have stated in hundreds of resolutions that Israel's annexation of occupied territory is unlawful, its construction of hundreds of Jewish settlements are illegal, and its denial of Palestinian self-determination breaches international law" — Michael Lynk, the UN Special Rapporteur for the situation of human rights in the Palestinian territory occupied since 1967
Please Note:
100% of the funds will be invested in advertising (billboards, print media, and digital media) in high-visibility locations. This includes the creative design of the advertising campaign, press around the campaign to further amplify the advertising, and legal, accounting, and administrative costs to managing the campaign.
The funds will be overseen and managed by Slow Factory's experience nonprofit campaigning team, and board of directors.
Our goal is to raise 250K USD. Anything above that will only allow us to extend the reach and duration of the campaign.
Q & A
Why aren't you sending the funds to Gaza?
We have immediately supported our humanitarian partners on the ground with sizeable donations, but now, due to the almost total blockade on Gaza, humanitarian aid is not going through, and money donated to major global charities is mostly in vain. The only thing that people on the ground are asking for now is urgent attention on the need for a ceasefire. They just need to stop the bombing and killing of civilians before anything else. Popular opinion on US policy is the only thing that will make a difference right now.
When will you close the campaign?
Our financial committee is currently in discussion about this. We will continue to share updates.
Who is leading this campaign?
Slow Factory, a group of multi-faith people whose ancestral home is in Palestine and the Levant, Indigenous and Black people and international supporters, inclusive of sexual orientation, gender expression, and racial ethnicity.