Dismantling oppressive systems through culture, history, knowledge and art. How Fashion can continue to be used as a medium for social and environmental change at scale.
Resources:
Books/Literary Texts/Articles
Videos/Podcasts
Who/What to Follow
Korina Emmerich Emme Studios

#mmiw
#mmiwgt2s
#whywewearred
#nomorestolensisters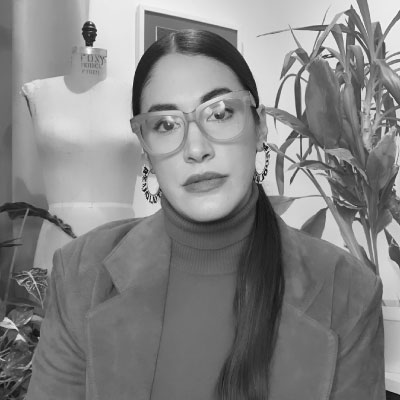 Korina Emmerich
Korina Emmerich has built her Brooklyn NY based brand, EMME Studio, on the backbone of Expression, Art and Culture. Originally from the Pacific Northwest, her colorful work is known to reflect her patrilineal Indigenous heritage stemming from The Coast Salish Territory, Puyallup tribe. With a strong focus in social and climate justice while speaking out about industry responsibility and accountability: Emmerich works actively to expose and dismantle systems of oppression and challenge colonial ways of thinking. Emmerich is a thinker, maker and critical analyst. She serves on the Board of Directors for The Slow Factory Foundation and is a speaker and panelist at sustainable literacy events and global conferences discussing: slow fashion, sustainability, dismantling white supremacy, environmental racism, indigenous sovereignty, climate and social justice and combating systemic racism.
You might also be interested in: